by
Priscilla Frank
Excerpt:
Strength and silence permeate Ken Gonzales-Day's three-part exhibition, entitled Profiled | Hang Trees | Portraits at Luis De Jesus Los Angeles. Through portraits, still lifes and landscapes, Gonzales-Day addresses how science, history and manufactured desire have shaped our understandings of identity.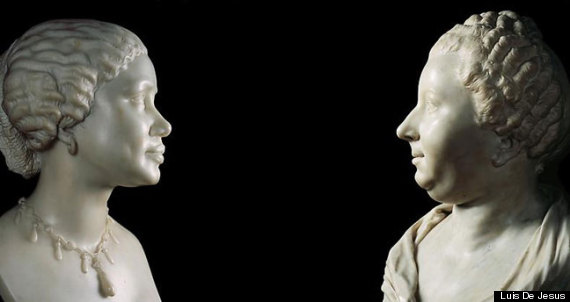 In "Profiled," Gonzales-Day sorted through busts from storage rooms of art and history museums from Europe, the Americas and Asia in search of different depictions of race. He collected Western European works from the 18th, 19th and 20th centuries depicting the perceived "scientific" images of racial difference. The seemingly random group of individuals shown unknowingly helped create the racial stereotypes they happened to embody. When paired together we can easily recognize one sculpture as Asian, another as Native American, regardless of their marbled, identical skin tones. In the art history canon we see categorization and hierarchy emerge, using bodies as if they were variables.
To research "Hang Trees," Gonzales-Day studied the oft-overlooked history of California lynchings in the 19th century and early 20th centuries. Latinos, he found, made up a disproportionate percentage of targets. Black-and-white photos of California trees, warped into weapons from the exhibition title, are terrifying in their oblivious and indifferent beauty. The loaded natural forms are juxtaposed with "Portraits," Gonzales-Day's photographs of contemporary Latinos. Strong and sexualized, the shirtless individuals form an ambiguous yet suggestive relationship with the hanging trees, simply through hanging in the same room.
Gonzales-Day channels hidden histories from a number of individuals, eras and races. And yet the resulting images don't appear didactic or crowded but stripped down to their essences. In other words, these figures will likely haunt you long after your visit.
to read on HUFFPOST